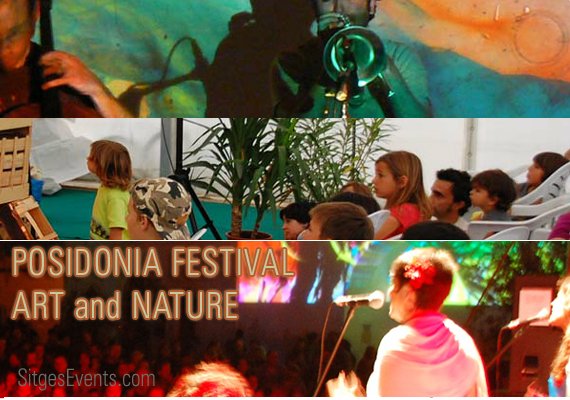 POSIDONIA FESTIVAL
ART and NATURE
International Festival of Art, Environment and Sustainable Development
NOTE: 2012 INFO
POSIDONIA FESTIVAL 2012
Sitges (Catalunya, Spain) 31st of August – 2nd of September 2012
Posidonia Festival 2012 Sitges
The International Festival of Art, Environment and sustainable Development
A festival of art and nature that takes its name from the Posidonia oceanica, a marine plant that is the key element for the ecosystems of the Mediterranean Sea and preserving from coastal erosion.
Posidonia Festival will be in Sitges, a seaside resort 20 km from Barcelona, famous for its Carnival and the Festival of Cinema, from 31st of August to 2nd of September.
Posidonia Project
Save Posidonia in the Mediterranean
Vision
Posidonia Project is an international campaign about Posidonia oceanica and it's impact on:
-Mediterranean ecosystems (sea and land ecosystems).
-Mediterranean people's sustainable development and economy.
-Global warming/climate change and CO2 stabilization.
Mission
Posidonia Project aims to achieve to reverse the reduction trend of the total area of Posidonia oceanica in the Mediterranean sea before 2014.
What's Posidonia oceanica?
Posidonia oceanica, commonly known as Sea Grass, is a plant (it is not a seaweed), adapted to underwater life into the sea. It is a key element preserving the Mediterranean ecosystems, protecting from coastal erosion, and regulating CO2 absorption in the sea and in the atmosphere.
The main threats for the posidonia ecosystems are the maritime constructions, the pollution of near-shore waters, the anchoring, the beach nourishment with sand, the warming of sea water due to climate change and the elimination of the dead leaves on the beach sand.
Possible activities and goals:
Efforts on maintaining the equilibrium of the mediterranean coastal and marine ecosystems
Transition towards a sustainable planet
50% day activities and about 50% at night
Potentially 100+ organizations and associations involved
Extensive media coverage of the Festival
Many invited stakeholders
Sponsors, Institutions, and Partners
Many conferences/round tables
Various musical bands
Several information installations
Various performance/theatre/circus groups
Many documentaries/films/animations on environmental themes
Many short films
Many enviromental workshops (some for children and teenagers)
Several EcoFairs
Possible Organisations:
Posidonia Festival
International Festival of Art,
Environment and Sustainable Development
Posidonia Project Carloforte
Posidonia MED
Non-profit associations
Posidonia Project partners
http://posidoniaproject.org