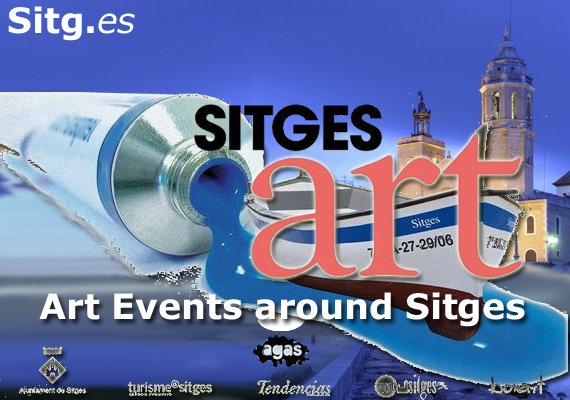 2015 Dates are provided by Council : Please confirm before booking flights etc
Annual Art Fair Sitges : often in March
Promote work of artists of Sitges, Garraf and Penedès
Tents in the Paseo de la Ribera
Several artists will present paintings, sculptures and photographs
past article:
Department of Culture : City of Sitges
Ajuntament de Sitges
Passeig de la Ribera
08870 – Sitges
Phone: 93 811 22 32
email: cultura@sitges.cat
Web: sitgestur.cat
PREVIOUS INFORMATION 
=========================================================
Exhibition of Paintings by Ramon Aguilar More in Sitges
The Hotel Estela Barcelona –
Paintings by Ramón Aguilar MoréAGUILAR MORÉ (Barcelona, 1924) He learned in the studio of Oleguer Junyent, where he worked between 1945 and 1948. He exhibited in a collective exhibition for the first time in 1949 at the Sala Rovira in Barcelona. Two years later, in 1951, he held his first personal exhibition. He develops a decorative expressionism, with strong arabesque and bright colours. In the beginning, he made many notes and sketches related to the dance, the music hall, jazz, ballet and music in general. Figures of teenagers, as well as landscapes of great emotional intensity have been issues to which he has devoted much attention. Using a rich palette in shades of cool, which he contrasts with the complementary tones, has served him to emphasize and make a live colour paint
Also presented his works at:Sala Gaspar (Barcelona), Sala Grifé & Escoda (Barcelona), Sala Nonell (Barcelona), Garbí Gallery (Valencia), Agora 3 Gallery (Sitges), Galería Alcolea (Madrid), Sala Rusiñol (Sant Cugat del Vallès) and Bilbao in Spain and cities around the world, such as Cadaqués, Philadelphia, Geneva, London, Madrid, New York, Paris, Santander, Ulm, Denver or Bergamo, among others
Aguilar More has obtained numerous awards and honours, including the Gold Medal of the City of Palma de Mallorca, Premi Sant Jordi of Barcelona Provincial Council, Miguel Carbonell Award for Painting, Painting Prize II of the "Juegos del Meditarraneo". His artworks appears in the Madrid Museum of Contemporary Art, Museum of Cadaqués (Girona), Diputación Provincial de Barcelona, Reina Sofia Museum in Athens (Greece), Perrot-Moore Museum (Cadaqués), Museum of Barcelona (Barcelona) and the Municipal Gallery "Francesc Galí Legacy" (Palamos).