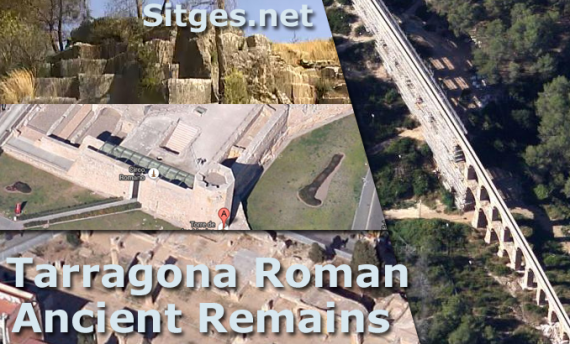 Tarragona is a lovely place to visit, next to the Mediterranean Sea.
With lots of ancient remains.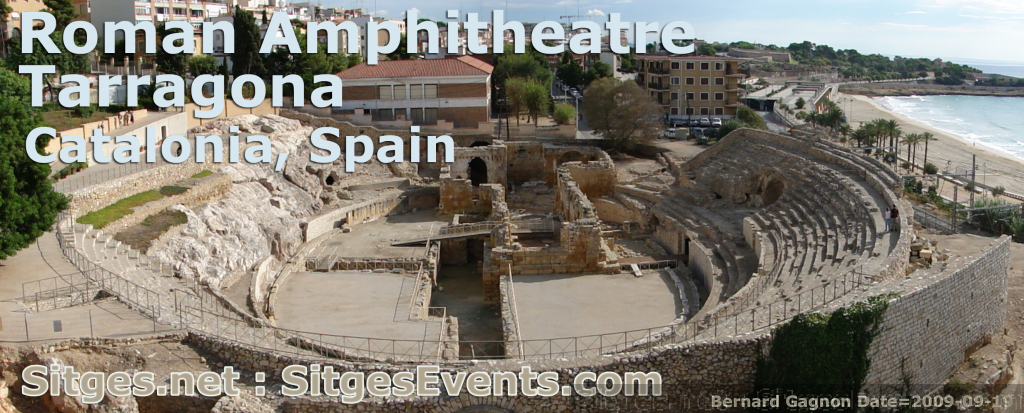 2nd Century Roman Amphitheatre
on the seashore: Open 1st January to 30th September
Tarragona Amphitheatre, Parc de l'Amfiteatre romà, 43003, Tarragona, Spain
57.0 km, 42 mins C-32 from Sitges, near Barcelona (DIRECTIONS)
Roman Amphitheatre FEATURES
Tarragona was the provincial Roman capital
Built 1st century BC
Enlarged 2nd century AD
15,000 spectator capacity
130 x 102 meters
A circus, c. 450 m (over the Plaça de la Font)
Vestiges remain
TIMELINE
After fall of the Western Roman Empire Quarry
10th century: abandoned during islamic invasion of Spain
12th century: Romanesque style church built over remains of the Visigothic church
1576: Convent for the order of the Trinity
1780: Prison for prisoners who were constructing the port
Mid-20th century: recover of theatre (funded by the Bryant foundation)
Summer time
14th May to 30th September (closed Oct to Dec)
(& during Holy Week: 26th March to 1st April, 2013)


Tuesday to Saturday from 10 am to 21hrs 9pm
Sundays from 10 am to 15hrs 3pm
Winter Hours
1st January to 12th May
(except Easter 26th March to 1st April, 2013 : as classed as summer time)


Tuesday to Saturday, 10 am to 19hrs 7pm.
Sundays from 10 am to 15hrs 3pm.
Closed on Mondays: Except
April 1st (10am to 15pm)
1st & 6th January
24th June
19th August
23 September
25th & 26th December
1st January 2014
Single adult entrance – 3.15€
Joint entrance for all the enclosures – 10.55€
(to see Roman Circus etc. below)
Retired persons, students over 16 with a student card, the unemployed and each member of a group of more than 25 persons Single adult entrance – 1.60€
Combined single entrance to all museums and monuments – 5.25€
Large families, 1 single entrance (valid for one monument) – 3.15€
Large families, combined entrance (valid for 6 monuments) – 10.55€
Yearly pass for registered Tarragona residents – 6.50€
Free entrance for:

Under 16s
Members ICOM
Museologists of Catalonia
Organized school groups of any age (by arrangement)
Members of RSAT
Members of SOS Monuments
Members of Associació d'Arqueòlegs Catalunya
Members of Fundación Casas Históricas
Inscription in the podium, dated 3rd century AD (reign of Elagabalus)
In 259, during the persecutions against the Christian ordere by Emperor Valerian, here were burnt alive the city's bishop, Fructuous, and his deacons, Augurius and Eulogius.
The city is also home to the National Archaeological Museum of Tarragona
Pre Roman Cyclopean walls foundations, near the Cuartel de Pilatos.
Part of the palace of Augustus (prison in 19th century)
The Roman ruins of Tarraco have been designated a World Heritage Site by UNESCO.