11/23/2014
Guided tours
Tour the Racetrack which opened on 28 October 1923 and is the only one remaining full of made in the early twentieth century. It formed part of the garden city Francesc Armengol designed Sitges between 1920 and 1930. It held several races as the "First International Grand Prix of Spain."
Exit roundabout Camping Carob Sitges C-246a, Km. 39
11: 00h
Approx. 2 h.
Languages: Catalan-Spanish (minimum 5 people)
Price: 10 € / person. (Children under 12 free). By reservation only.
Information and reservations: Tel AGISitges. 619,793,199
The "Autòdrom de Terramar" is a racetrack inaugurated on October 28th, 1923, and it is the only early 20th Century car-racing track that still survives in its entirety. It was part of the garden-city designed by architect Francesc Armengol in Sitges between 1920 and 1930. Amongst other races that were held on this track, is the "First International Spanish Grand Prix".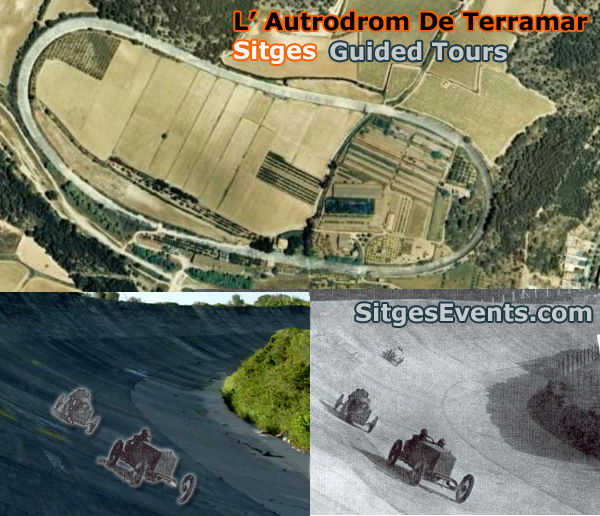 Departure from: the Sitges Garrofer Camping roundabout, C-246a, Km. 39. 11:00h
Approx. duration 2 h.
Languages: Catalan- Spanish (Minimum 5 people)
Price: 12 € / person (Children under 12 free) Must be booked in advance
Ticket sales & reservations: Sitges Tourist Information Office. Pl. Eduard Maristany, 2
Info: 93 894 42 51 – www.sitgestur.cat – info@sitgestur.cat o 619 793 199 – ww.agisitges.cat
Sitges L' Autrodrom De Terramar
About the Racetrack
Please ask for permission before visiting the site independently (autodromoterramar@gmail.com)
Location :
Opposite Rotonda Càmping Garrofer and Behind the Urbanization called Rocamar
C-246a, km.39
Sitges
L' Autrodrom De Terramar : Sitges Terramar : An official Sitges local landmark
A stunning concrete racetrack from the 20's with sweeping corners stretching upto 100 meters from their base into the sky. In great condition considering its around 90 years age, since being built in 1923
Location: Sitges – North Western Outskirts (Approx 35 km22 miles from Barcelona, Catalonia)
Nearest Road: C31 (c-248a) that leads from Sitges to Vilanova/Sant Pere de Ribes
Nearest Urbanization: Behind 'Rocamar'
THE STRUCTURE
Construction Date: 1922
Build Time: 300 days
Cement Used: 3.5 million kilograms (7.7 million pounds) Approx
Opened: October 28 1923
Track Type: Concrete Oval (long kidney-shaped)
Track Length: 2km (1.25 miles)
Track Width: Varying from 18 to 22 m
Banking on Corners: 60 degrees, Interior radius of 100 m (NASCAR = 36)
Builders: Autodromo Nacional, S.A
Founded By: Frick Amangue
Architects: Jaume Mestres i Fossas (track) – Josep Maria Martino (facilities). It was completed in
Cost: 4 million pesetas or £20k/24k€ (at 1999 1 euro = 166.386 pesetas rate)
RACE
First Meeting: Gran Premio d'España
(in tandem with Circuito Lasarte, near San Sebastián)
Date:
October 28 1923
(first Spanish Grand Prix race since 1913 in Madrid)
Cars: Seven 2-litre GP racing cars
Results: 5 cars completed 200 laps
Winner: Albert Divo (Sunbeam)
Winning Time: 2 hours, 33 minutes and 50 seconds (race data)
Average Speed: 155.89 kph (96.91 mph)
Second: Count Louis Zborowski (Miller 122)
Second Time: 34 minutes and 46 seconds (56 seconds longer!)

Sunbeam
Builders reportably seized the spectators/gate entrance fees, for upaid construction bills (caused by overuns)
International Races abandoned as drivers weren't paid prize money & claims of poor design (bankings approach and exit dangerous)
The late 20's was a difficult financial period for the world and, reportably, as Edgard de Morawitz did not support Franco usage could reportably caused serious reprisals.
HISTORY
1925: Some races by Catalunyan Automobile Club and the Penya Rhin
1929: Sold to Edgard de Morawitz (after previous owners bankrupsy)
1932: Spanish motorcycling championship
1950s: Handful of motor races (le Volta a Catalunya)
1955: Last race on May 29th
2009: Cleanup of track (used as a chicken farm)
2012: Current owner – Marcel Ricart
Future: Some plans to creation of "L'Autodrom Resort by Salvador Mora i Lluma, a relative of the owners
Features:
Tire treads marks in cement, no-doubt from Dunlop, Michelin and Firestone (so keen, before it dried!)
Sheds used by racers, enc Bugatti and Hispano-Suiza)
17th Century Building, used as the clubhouse and now home to Marcel Ricart (when not in Barcelona)
15th Century Defensive Watch-tower with drawbridge
Big 'Grandstand'
The infield (central area) Airfield has been replaced by a Chicken Farm
Click an image below to see a bigger version. Appears over the page. Use arrows to navigate through images (click image to close)
Most B&W photos (original 1920s) by Ludvigsen
[nggallery id=2]
============================================================
Autódromo de Sitges-Terramar
El
Autódromo de Sitges-Terramar
, es un circuito abandonado tipo
oval
inaugurado en
1923
y en desuso desde los
años 50
. Está situado en el término municipal de
San Pedro de Ribas
(vecino de la urbanización de Rocamar) aunque por la cercanía con
Sitges
se le da este nombre. El circuito tiene una longitud de unos 2 kilómetros, es ovalado y son notables sus peraltes de 60 o más grados.
En el momento de su construcción Europa sólo disponía de dos autódromos, el de Brooklands y el de Monza y en Estados Unidos sólo había el de Indianápolis. En este circuito se celebró el Primer Gran Premio de España, celebrado el mismo 1923 como parte de los actos inaugurales del circuito. Esta carrera la ganó Alberto Divo al volante de un Sumbeam.
Historia
Diseñado por Jaume Mestres i Fossas el autódromo fue construido en sólo 300 días con un coste de 4 millones de pesetas. La inauguración, a la que asistieron el monarca Alfonso XIII y Miguel Primo de Rivera, fue encabezada por el sabadellense Francesc Armengol, promotor de la urbanización de Terramar de Sitges y uno de los principales inversores del circuito. Sin embargo, con el curso de los años la clase acomodada barcelonesa pronto dejó de asistir al autódromo, lo que marcaría definitivamente su futuro.
La elevada inversión para la construcción del circuito sumada al escaso público que asistía a las pruebas hizo que no pudieran otorgar premios monetarios a los pilotos por sus victorias. Esto afectó seriamente la reputación del circuito, y eso se añadió a las quejas de los pilotos por los elevados peraltes (de 60 a 90 grados), que afectaban la seguridad de la conducción. Así, en 1925 ya no se realizaban carreras, y en 1929 el Autódromo pasó a manos de Edgar Morawitz. Gracias a la inversión de Morawitz se volvieron a disputar carreras a partir del año 1932 con una prueba del Campeonato español de motociclismo. Morawitz se posicionó en contra de Francisco Franco y eso hizo que tuviera que abandonar la gestión del circuito por miedo a las represalias de la dictadura. El 29 de mayo de 1955 corrieron los automóviles en el circuito por última vez, un año después la Vuelta a Cataluña hizo un recorrido de 60 km que fue el último evento que se disputó.
Actualidad
El circuito sigue encontrándose abandonado aunque muchos son los aficionados que se trasladan al circuito para verlo o caminar por la anitgua pista, las curvas del cual siguen manteniéndose en perfecto estado. Las rectas del circuito estaban parcialmente cubiertas de vegetación hasta que a principios de 2009 se realizó una operación de limpieza, lo que permite dar vueltas completas al circuito con cohes bajo permiso del propietario.1 Se prentende hacer un proyecto de rehabilitacion para albergar carreras de coches clásicos así como hacer un museo donde estaba ubicada la grada principal.2 También se hacen visitas guiadas por el circuito desde el año 2010.3
Gran Premio de España