Sitges Film Festival 2011
By
Visited 4969 times , 1 Visits today
Start Date: October 6, 2011
End Date: October 16, 2011
Time: 8:30 am to 11:59 pm
Description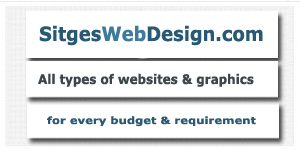 44th Event : Sitges 2011 :
Artificial Intelligence is under focus this year
A world renowned film festival focused on Fantasy : Horror and Sci-fi.
Paying tribute to  "AI", a Steven Spielberg film and it's 10 year anniversary
For the first time, the opening film will be Catalan:
EVA, directed by Kiko Maíllois set in a future when humans & robots co-exists.  In Spanish, with press screenings in both languages.
A well known actor(ess) will present the 'Grand Honorary Award' during the opening gala.
SITGES 2011 Films here
Sitges Film Festival 2011
Main Films In English
Each links to more info and when they are showing at the bottom.
Rhoda has just been admitted to the prestigious Massachusetts Institute of Technology when, while driving back from a party, she sights a planet on the horizon. Distracted, she crashes into another vehicle, killing several members of the same family. Years go by and it is discovered that this planet is an exact replica of the Earth, with doubles of all of its inhabitants. Rhoda, after serving her sentence for her responsibility in the accident, decides to contact the only survivor of the disaster, but without revealing her true identity. Slowly, the two of them get closer and closer while Rhoda can't stop thinking about the duplicate planet that silently observes her from the sky.
It's a well-known fact that the space race contains some of the best-kept secrets. And that a lunar trip can be one of the best allies for terror. In 1972, the United States sent two astronauts to the moon on a failed mission. The crew's recordings, locked away and hidden by NASA, now come to light, revealing the reasons why the mission failed and the existence of a mysterious presence in outer space. The director of El rey de la montaña now hops on the rocket of an American production to wind up making one of the most spine-chilling and fascinating space horror movies since Alien.
From the creators of Shaun of the Dead and Scott Pilgrim vs. the World, comes this zany alien movie that has been all the rage in the United Kingdom. A group of teenage punks mug a nurse who they wind up leaving alone when they see a weird object plummeting down towards a car. When it reaches the vehicle, the gang sees that what has landed there is a strange creature. Neighborhood kids prepared to fight off an invasion, incredibly fresh performances and more than one touch of humor round off this film that was born to be labeled a cult film.
Who said post-apocalyptic cinema wasn't inspiring? Its teachings have led Woodrow and Aiden to build a myriad of weapons and customize vehicles to make sure that, in case the nuclear holocaust breaks out, they'll be the toughest guys on the highway. Everything changes the day that Woodrow meets Milly and love appears in his life. A nice story without a happy ending that will cause Woodrow to discover that a heart shattered into a thousand pieces can unleash the Apocalypse. With its guerrilla filming, epic romanticism and extraordinary aesthetics, Bellflower is destined to become a cult film and one of this season's big sensations.
Bench Seat is the classic love story where a young couple has to decide whether to move forward or break up. She wants to commit, he dreams of a life of freedom but will think twice when she tells him what happened to the last boy that left her.
The year is 1983. Although not necessarily the 1983 we know but an alternative version with unmistakable retro-futuristic echoes. Doctor Barry Nyle invites us to discover the benefits of Arboria, the scientific project he's directing and that promises to provide us with a way of attaining happiness. But something shady is being cooked up in his laboratory, as we will very soon see: there, Nyle is holding Elena, a teenager with psychic powers, in order to analyze and steal her gift from her. This is only the premise of a hypnotic film close toabstraction that, through passé aesthetics, makes nostalgia the key to a visionary discourse.
Edinburgh, 1928. Two small-time crooks stumble onto the business of their lives when they start dealing in dead bodies. The two main characters make the most of a shortage of corpses after the death penalty has been abolished to get rich quick by selling dead bodies to the local medical school. Corpses in strange positions, a femme fatale, two crazy body snatchers and more than one memorable cameo (look for Christopher Lee or Ray Harryhausen): John Landis, the king of comedy with horror overtones, goes back to his old ways with a movie that delves deep into the domains of black humor.
Thing about your day-to-day life: when you hand your credit card to a waiter, when you shake hands at a work meeting or when you see someone sneeze on the bus. An instant, and the virus has been spread. Returning from a business trip to Hong Kong, Beth sees the harmless little cold she had turn into something much more serious. Soon, more cases like Beth's start to come to light all over the planet: the pandemic is a reality, the alarm is raised. Steven Soderbergh wanted to emulate George Clooney in Ocean's Eleven and now he already has his Six: Cotillard, Damon, Law, Paltrow, Fishburne, Winslet. To talk about a deluxe lineup would be an understatement.
An award-winner in Sitges, where he showed off his endearing smile, Roger Corman is one of those figures without whom it would be impossible to understand the history of North American cinema. Made during the shooting of Dinoshark (the title speaks for itself), this documentary portrays this atypical producer, a genuine sniper within the framework of Hollywood and the defender of some of the most important directors in recent history. It does it through unending stock footage and interviews –from Jack Nicholson to Joe Dante and including a true dream team of filmmakers–. A comprehensive document on a tireless creator.
A documentary that follows the history of the nuclear bomb from its origins to the present, with no fear of pointing out the dangers of a nuclear disaster. Paradoxically, the Festival's most frightening film is also the one that's closest to reality.
In 2009, in the hallways of the Meliá hotel, a name could be heard, Nicolas Winding Refn's, who with two movies in the running was then putting himself forward as a candidate for cult director, a motivator of contemporary genre films. 2011 arrived and Winding Refn proved that so much promise wasn't in vain. With Ryan Gosling set up as a hero sparing in words and gestures, Drive gazes into the rear-view mirror towards a late seventies cinema full of cars, persecutions, action and excitement. With markedly retro aesthetics, Drive pays tribute to the past, to Walter Hill's Driver; meanwhile, Winding Refn underpins the cinema of the future.
The world is going to end several times at this year's Sitges Festival. Abel Ferrara does his post-apocalyptic theme bit with an intimate film, revolving around a New York couple –she's a painter, he's an actor– who spend their last hours together before the Earth ceases to exist at four forty-four in the afternoon. What to do with the time you have left? Say goodbye to loved ones, argue, make love… With 4:44 Last Day on Earth Ferrara stamps his signature on this beautiful camera piece that delves deep into one of his favorite themes, spiritual crisis, and that also rises up as a heartfelt tribute to the city of New York on the tenth anniversary of the 9-11 bombings.
A group of five mountaineers are climbing in the highlands of Scotland when they accidentally discover a girl who has been buried alive. After rescuing her, they head for the nearest town to look for help, but the girl's captors are watching them closely… Just to get an idea of how seriously Julian Gilbey took this film, suffice it to say that he spent time training up in the heights to get to know the challenge his characters were going to be exposed to from up close and to design a mis-en-scene that captures the true vertigo of the locations. A very intense thriller that leaves the spectator knocked out.
Presented at Sitges'87, Anguish is Bigas Luna's only foray – and a remarkable one at that – into horror cinema, or if you prefer, into the terrain of the spine-chilling thrillers. A psychopathic killer pursues the spectators in a movie theater while they are hypnotically watching the fascinating story happening on screen … Full of parallel actions, tricks and ploys that come one after another in a disconcerting spiral of fear and black humor, Anguish speaks to us about real fear and fictitious fear, specifically, the fear that movies can cause. In Anguish, the cinema, a dark space dominated by shadows and where imagination is mixed with desire, with our lucidity voluntarily suspended, is a place to suffer… and to die.
A multidisciplinary paranormal research group arrives at an apartment where all sorts of strange phenomena are taking place: unanswered phone calls, objects that move about by themselves, sounds of unknown origin and lamps that explode for no apparent reason. The group prepares to investigate the events scientifically, using the most sophisticated techniques available to them, but little by little, the mysterious manifestations become increasingly more violent. Rodrigo Cortés, responsible for Buried, wrote the screenplay for Emergo, a truly fresh approach to haunted house movies.
An Afghan captured by North American troops is transferred to Europe. There he escapes his captors, going deep into unknown territory. Lost, disoriented, his only objective will be to try and find some vestige of humanity.
The American Civil War is full of stories. Some are all too well known, others remain hidden, collecting dust. The diary of Edward Young is one of those stories: At the end of the war, Edward returns home hoping to finally find a little peace. Once there, he discovers that his son's disappeared and his wife's been turned into a hungry zombie. With no home or family, Edward begins another and, if possible, even bloodier journey, facing the threat of these undead. An alternative approach to the history of America, full of animation sequences and including the presence of two charismatic actors like Dee Wallace and Bill Moseley.
The mother of them all, the origin, call it what you want. James Whale's Frankenstein, the authentic one, the inimitable one, is eighty years old. As endearing as it is terrifying, it has been quoted from and emulated over and over again.
A hobo arrives in Scum Town ready to start a new life. But he soon realizes that the city lives up to its name and the scum have free rein in the streets, controlled by a tyrant and his sadistic children. Given this scenario, the hobo arms himself with a rifle and starts to dish out justice among the criminals, pimp and pedophiles who are in his range of fire. Hobo with a Shotgun managed to become a cult film even before its premiere, and with good reason. A tribute to urban vigilantes with all the blood in place and a bigger-than-life Rutger Hauer.
Hand in hand with Charlotte Brönte's text and Cary Joji Fukunaga's camera, Jane Eyre takes us to 19th century England where, after a difficult childhood, young Jane moves into Mr. Rochester's mansion to work as a governess. The girl's relationship with the master of the house becomes the driving force of a both romantic and fantastic film. From her encounter with a kindhearted young man who helps Jane out, to her confrontations with the family she grew up with, Jane Eyre tells us the story of its heroine's life journey through leaps in time. A classic among classics for a first class cast. A film full of sense and sensibilility.
Five years ago, Sitges saw The Zombie Diaries, a low-budget movie, surprise one and all with large doses of terror. Time has gone by and British directors Michael Bartlett and Kevin Gates are back at it again feeding the fire, ready to present a sequel that follows the line of its predecessor, shot camera in hand and with a great deal of blood. Journalist Leeann, our main character, must save herself from the attacks of thirsty living dead; but unfortunately, the zombies won't be the only threat.
An amusement park offers the general public the possibility of interacting with robots in different thematic areas. Two friends choose an adventure in the Wild West, but it turns into a nightmare when an error in the computer system causes the robots to start behaving aggressively.
The first thing that became clear to Shunji Iwai was an image. Years later, the director read the news about a boy who murdered the users of a suicide website. Now he had the image and the story for Vampire and all he needed was the location. So the Japanese filmmaker moved to the United States hand in hand with Simon Wade, a young, delicate professor who, in his free time, kills people who want to put an end to their lives so he can drink their blood. This realistically-hued vampire movie combines the poetic with the bloody, par for the course seeing it was made by the always elegant creator of All About Lily Chou-Chou.
The rumor spreads across the dessert that the legendary outlaw Gasback plans to make his next heist in Macca City. Faced with this alarming news, mayor Kepler offers a 300 million dollar reward for his head, bringing together a veritable army of bounty hunters to defend his city. When Meryl and Milly arrive there to sort out some issues, they will discover that the situation is even more serious than they thought. Based on the big hit Satoshi Nishimura manga, Trigun: Badlands Rumble is somewhere between a futuristic western, science fiction and the spectacularity of anime.
A group of characters dressed up in horrifying old people masks wander around a neighborhood in Nashville committing all sorts of outrages. Among their multifarious ways of spending their time we find breaking in, and the destruction of, abandoned houses, fornicating with trash bins or nights of wine and roses with obese prostitutes. Trash Humpers is not a movie, but an unidentified film object, shot on old VHS tapes and later blown up to 35mm., that defies any type of classification and with which Harmony Korine recovers his fascination with the ugly-ish aesthetics that characterized his first works.
What is it about Carpenter movies that always make then so ideal for sublime remakes or juicy sequels? Jean-François Richet already showed that it was possible to update Assault on Precinct 13 without losing a single iota of tension. Now, the creators of Dawn of the Dead are back at it again with a prequel of The Thing that will take us back to ends of the earth to be frozen in terror. The paleontologist Kate Lloyd arrives in the Antarctic to join an expedition that is about to make the discovery of the century. Something has been buried in the ice for a hundred thousand years. Something that looks dead, but that's ready to wake up from its lethargy.
We have a different formulation of an exploitation movie with the hair-raising and amusing The Texas Chainsaw Massacre 2 (86), sequel of the 1974 classic directed by the same filmmaker. Unlike the gloomy seriousness and hyperrealism of the first one, its continuation stands out for its caustic sense of humor (black, extremely black) the bloody (and abundant) special effects by Tom Savini, and the participation of Dennis Hopper, playing the part of a tense, vindictive Texas Ranger, capable of taking on Leatherface with his own weapons: a chainsaw… Hopper knew how to demystify himself without losing his essence.
Theater experts know that "The Tempest", William Shakespeare's final play, is a text that's tremendously hard to stage because its mixture of, drama, comedy and magic needs a very well-tuned orchestra to reach a satisfactory conclusion. But that didn't intimidate Julie Taymor, who had already offered us a daring interpretation of Shakespearean text in Titus. Surrounded by a genuinely top notch cast and crew, this filmmaker offers us an important audiovisual experience and even dared to change Prospero's sex, giving the role to the great Helen Mirren, beacon of this story about exile, love and the battle between intellect and base instincts.
Jimbo Farrar is a special boy. Fortunately, he's not alone, but shares his singularity with five other young people who possess powers that are unimaginable for any human. All of them have gathered together in New York, but the night of their encounter they are assaulted in Central Park. As of this moment, a thirst for vengeance and destruction invades the other five and Jimbo has to decide if he'll join them or confront his equals. Action worthy of any superhero blockbuster and an action-packed plot are the seasoning in this animated cinema milestone.
Adolescence is and always will be a time of emotional confusion, especially if you spend it in a closed environment. That?s the case of Rebecca, a student at an exclusive female boarding house. The young girl expresses her thoughts in a diary, the pages of which are centered on Lucie, her roommate. Their relationship changes drastically with the arrival of a new student, Ernessa, whose friendship with Lucie will soon arouse all sorts of rumors, to the extreme that Rebecca starts to suspect that Ernessa is a vampire. Is there any truth to all this or is Rebecca slipping into insanity. A brilliant update of gothic stories, based on the successful novel by Rachel Klein.
The United States is in crisis. The poor are crowded into ghettos, while politicians don't seem to be worried about what's going on. In view of this scenario, a man nicknamed The Mortician gets by working at a morgue with the only companionship of a prostitute named Ava. The arrival of a corpse with a strange tattoo, the appearance of a dangerous gangster and an encounter with a mysterious boy will change the fate of our hero, a man who carries out his job firmly and coldly, and is played by Method Man, a member of the mythical Wu-Tang Clan.
George, Max and Ricky are in a band. Like so many other musicians, they have to combine their passion with other jobs that allow them to pay the rent. Working as cooks at a maximum security psychiatric center didn't seem like a bad idea: they could work together, it left them time to practice, the center's security guaranteed minimum contact with inmates… Until one night, when an intense thunderstorm knocks out all the electricity in the building, deactivating all of the security measures. The three friends get trapped in the kitchen, with no barriers separating them from the mentally disturbed, who have now become a violent, out of control mob. Physical and virulent, The Incident turns the fear of others into a high-tension thriller.
A shower of missiles sparks panic in New York City, causing the inhabitants of the Big Apple to take desperate measures in order to survive horror that appears to be the end of the world. A small group of survivors lock themselves into a bunker waiting for it all to end and for someone to come to their rescue. In these extreme conditions, the friction between them soon becomes increasingly bloodier, leading to an escalation of tension that gets even worse when the help they've been waiting for from the outside world becomes a threat. "Hell is other people", Jean-Paul Sartre once said, and The Divide seems to prove him right.
Hollywood, 1927. George Valentin is a successful actor, a seducer, a star that will not easily be eclipsed. At least as long as he doesn't have to talk. Things get complicated for George when the talking pictures hit the scene and the industry shuts the doors in the face of the gentlemen who silently came to the re
Lucy combines her life as a university student with sexual encounters that help her pay for her studies. One day, she's offered a job working as a waitress in sheer lingerie for high-class men. Highly valued by her boss, Lucy soon gets to do an audition for Sleeping Beauty. The job appears to be simple: every night, Lucy must take a pill, lie down in bed in a mysterious room and go to sleep; and, above all, she must never know what's happened during this time. Backed by Jane Campion, Sleeping Beauty turns the children's classic into a terrifying tale of sex with sets that are as luxurious as they are cold.
It's taken Monte Hellman more than twenty years to get back into the arena. And he's done it with a movie that explores the possibilities of digital and the limits of fiction. In times of crisis, what could be better than Road to Nowhere, a complex, low-budget film that's two movies in one. On the one hand, it's Hellman's film; on the other, a fictitious Mitchell Haven's film, ready to recreate the story of a mysterious woman. Since Mulholland Drive we hadn't seen a film exercise as fascinating as this one: a game of superimposed realities, a sensual portrayal and the return of one of the great big screen directors.
Hormones can be very treacherous. And if you're not convinced just ask the teenagers who, attracted by an ad promising group sex with an older woman, fall into the trap of a group of religious fanatics determined to eradicate the libido of America's youths through extreme methods. With Red State, Kevin Smith delves deeply into the most virulent, real horror and vents his anger against all sorts of conservatisms. To do it he relies on a cast headed by the recent Academy Award winner Melissa Leo, the great John Goodman and Michael Parks, one of the favourite actors of Quentin Tarantino (who, by the way, has already confessed his admiration for this movie).
SITGES 2011 Films here
SITGES 2011 Parallel Events here
Preview:
preview of the movie selection, Divided into four sections:
Fiction:
That selection to combine film with big names in contemporary young artists appearing around the festival circuit.
– The Day He Arrives (Hong Sang-soo): A meta-game of Korean language in the master's most accessible film.
– Vampire (Shunji Iwai): The director of All About Lily Chou-Chou travels to North America to explore Juvenile Anguish in a generic and key of paying tribute to George A. Martin Romero.
– 22 mei (Koen Mortier): The Director of Ex Drummer is back to explore post 9 / 11 paranoia.
– 4:44: The Last Day on Earth (Abel Ferrara): A reflective, intimate exercise from the director of The Addiction revolving around fear of the end of the world.
– Kotoka (Shinya Tsukamoto): The return of the director of Tetsuo and reflective to the most transgressive horror films.
– Hanezu no Tsuki (Naomi Kawase): Mythological transcendental meditation on the loss of values ​​in today's society.
– The Belle endormie (Catherine Breillat): A very personal and Atypical version of Perrault's story.
– The Tempest (Julie Taymor): A spectacular, fantastic adaptation of one of Shakespeare's strangest works by the director of Titus and Frida.
– Le petit poucet (Marina de Van): Another feminine, Atypical version of a famous children's story from the director of Do not Look Back.
– Beyond the Black Rainbow (Panos Cosmatos): A bizarre exercise science fiction with roots in the 70's genre tradition that was one of the big Sensations at this year's Tribeca festival.
Non-Fiction:
Confirmation of the growth of the creative documentaries have been screened That during recent editions of the Festival.
– Arirang (Kim Ki-duk): A self-reflective exercise from the director of The Isle, winner of the Un Certain Regard category at Cannes 2011.
– Magic Trip: Ken Kelsey's Search for a Kool Place (and Alison Ellwood Alex Gibney): Reconstruction of Ken Kelsey's psychedelic trip and a passionate study of LSD culture.
– Project Nim (James Marsh): The Academy Award winning director of Man on Wire DELVA into a fascinating experiment about animal intelligence.
– The Bengali Detective (Philip Cox): A blend of comedy and social documentary That surprisingly explore the complex society of present-day India.
– Knuckle (Ian Palmer): An incredible documentary on street boxing.
– Resurrect Dead: The Mystery of the Toynbee Tiles (Jon Foy): Award winner for best documentary at Sundance director and a science fiction real experiment with a dose of millenarian paranoia.
Discovery:
A selection of films made from separate premises and investigating new experimental possibilities of film language and the fantastic genre.
– Vlogger (Ricard Gras): A Catalan audiovisual experiment That translates produced the mixture of material from the Internet and generic fiction into a fictional plot. Its world premiere will be in Sitges.
– Hellacious Acres: The Case of John Glass (Pat Tremblay): The Apocalypse as a theme, this time playing with textures and images and dispensing with dialogue.
– Invasion of the Alien Bikini (Oh Young-Doo): A superhero movie, with large twos of pop culture and Zany comedy. A surprise That goes way beyond its title.
Dark Fiction:
A selection of approaches with a cult auteur Vocation.
– Onna no kappa (Underwater Love) (Shinji Imaoka): A blend of pink eiga and indescribable musical starring in Japanese Mythical Creature. With Cinematography by Christopher Doyle.
– Meat (Nieuwenhuijs Victor and Maartje Seyferth): A Butcher's erotic fantasies, experimenting with textures in a film that brings to mind Lynch Gold Greenaway.
– Kaida Horror Classics (Shinya Tsukamoto, Msayuki Ochiai, Sang-il Lee, Hirokazu Koreeda): An omnibus horror film revolving around traditional legends directed by masters like Tsukamoto Gold Koreeda.
Some of the outstanding international films That will be participating include:
The Turin Horse, by Béla Tarr.
The Yellow Sea, by Na Hong-jin, director of The Chaser (Korea).
Les Contes de la Nuit, 3D animation, by Michel Ocelot.
Grave Encounters, directed by The Vicious Brothers in recent blockbuster in Italy.
Burke and Hare, by John Landis.
Continuing with our commitment to Latin American genre films, including productions like we will be tired trabalhar, from Brazil.
Once again the festival will Focusing on 3D cinema in different sections, with movies like Sex and Zen: Extreme Ecstasy, in Midnight X-Treme, one of the big box office hits in Hong Kong, or The Mortician, by Gareth Maxwell Roberts, in in the Official Competition Section, an innovative technology Stereoscopic proposal.
Asian cinema will continue to be represented in several movies programed in the festival's different sections, Identified with the Casa Asia Hallmark.
New Visions (Fiction, Non-Fiction and Discovery), Go ahead, New Author, (in collaboration with SGAE), Seven Chances, Brigadoon and Midnight X-Treme, the festival's main sections, will be Announced over the upcoming months.
SITGES 2011 Parallel Events here