Gay Pride Sitges 2015
By
Visited 6406 times , 3 Visits today
Start Date: June 18, 2015
End Date: June 22, 2015
Time: 9:00 am to 12:00 am
Email:
info@afgal.com
Description
Sitges Gay Pride Events: Future & Past
PARADE: Sunday 21st
ROUTE: Along beach front promenade
(Kansas Churingito and down through Psg. Ribera returning to Psg. Maritim)
Party on the promenade after parade.
Approx Parade Route (click to enlarge)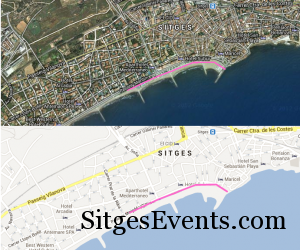 View Sitges Gay Pride Route in a larger 'Google' map
Sitges will celebrate its Official Gay Pride again, with an amazing line-up of events, concerts and activities to mark such an auspicious occasion.
From Mr Gay Pride Sitges, to what promises to be a hilarious Miss Drag Queen Sitges together with a host of other events, this is one five day pride event you won't want to miss, with the Gay Village and Party on the Promenade operating for the entire duration of the event.
The event kicks off with a spectacular opening party on the Promenade in front of the Gay Beach right along the seafront will be completely transformed into a Gay Village.
Sitges Sitges Gay Pride, music, dance and shows for 5 days
Events Include:
International DJs and dancers,
White Night (Friday)
Red Night (for charity : aids)
Mr. competitions (Gay Sitges and Miss Drag Queen)
Fashion shows on the promenade
Various parties at local Sitges nightclubs..
60,000+ attended in recent years
Gay Village with nightly entertainment
Passeig de la Ribera, 48-72, 08870 Sitges, Barcelona, Spain
19/06/2015 11:30 pm To 12:30 am Read More
Tea Dance Nightly DJ's Set
18th – 22nd June: Nightly DJ Set Pride T-Dance
Passeig de la Ribera, 48-72, 08870 Sitges, Barcelona, Spain
After Promenade Events & Parties
PRINT VERSION: http://www.sitgesevents.com/gay-pride-sitges/
About the Organizers :
Related Events
Start Date: September 16, 2019
End Date: September 25, 2019
Time: 9:00 am to 12:00 am
Location: Sitges, Barcelona, Spain

View Event Detail

Start Date: August 17, 2019
End Date: August 25, 2019
Time: 2:00 pm to 2:00 am
Location: Sitges, Barcelona, Spain

View Event Detail

Start Date: September 22, 2018
End Date: September 23, 2018
Time: 9:00 am to 12:00 am
Location: Sitges, Barcelona, Spain

View Event Detail