Gay Pride Sitges 2013
By
Visited 164611 times , 1 Visits today
Start Date: June 13, 2013
End Date: June 17, 2013
Time: 9:00 am to 12:00 am
Description
Sitges Gay Pride Events: Future & Past
Free Live Music at
Sitges Gay Pride Village Main Stage

13th to 17th of June 2013 (click day for full agenda)

The Sitges Pride Parade
Sat 15th June – From 5pm (17.00 hrs) with party after (see below)

ROUTE: Along beach front promenade
(Kansas Churingito and down through Psg. Ribera returning to Psg. Maritim)
Party on the promenade after parade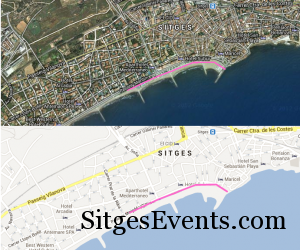 ————————————————————————————-

Free Live Music at
Sitges Gay Pride Village Main Stage

13th to 17th of June 2013 (click day for full agenda)

Details of Tribute Act
2013 Dates are provided by Council : Please confirm before booking flights etc
13th to 17th of June 2013
PREVIOUS INFORMATION PROVIDED, WHEN 2013 INFORMATION NOT FOUND
=========================================================
2012 Gay Pride Sitges
Sitges will celebrate its Official Gay Pride for the third time. We have an amazing line-up of events, concerts and activities to mark such an auspicious occasion.
From Mr Gay Pride Sitges, to what promises to be a hilarious Miss Drag Queen Sitges together with a host of other events, this is one five day pride event you won't want to miss! Yes… 5 Days.. we have extended it by another 2 days, with the Gay Village and Party on the Promenade operating for the entire duration of the event.
The event kicks off with a spectacular opening party on Thursday the 5th of July featuring the increadible 100% Kylie.. Throughout the Pride, the Promenade in front of the Gay Beach right along the seafront will be completely transformed into a Gay Village.
The main parade takes place on Saturday the 7th of July from 2pm with floats from the towns gay businesses together with local groups and bands. Various acts and performances will take place over the 5 days. Subscribe to our newsletter below to keep up-to-date with the latest announcements.
THE VILLAGE SHOWS
GO VIP and view all of the village shows from the special VIP stage and direct access to the VIP bar, no long queues and the best views around! – BOOK HERE
DECADANSE on the Beach – The PRIDE Party!
The Pride Superpass
PRIDE PARTIES AT ORGANIC DANCE CLUB
PRIDE PARTIES AT TRAILER
PRIDE PARTIES At L'Atlantida
SUBJECT TO CHANGE
PARADE ROUTE

View Sitges Gay Pride Route in a larger map

Sitges Sitges Gay Pride, music, dance and shows for 5 days from the 8th July
Events Include:
– International DJs and dancers, Terramar Park,
– White Night at the Prado, with electronic music
– The Retiro, music of the years '80 and '90,
– Mr. competitions (Gay Sitges and Miss Drag Queen)
– Fashion shows on the promenade
– Various parties at local Sitges nightclubs.
Star appearances:from:
– Dana International, the transsexual singer who shot to fame representing Israel in the International Festival of Eurovision 1998
– Melissa Totten, the Madonna impersonator known for music from the '80.
Reportably 60,000 attended in 2010, 60% from abroad, from countries such as Canada, United States and the Netherlands.
Organized by AFGAL, the Independent Association of Gays and Lesbians based in Sitges, with the support of the City of Sitges in Sitges Tourism Promotion Agency and the Hospitality Association of Sitges.
[nggallery id=19]
About the Organizers :
Related Events
Start Date: September 16, 2019
End Date: September 25, 2019
Time: 9:00 am to 12:00 am
Location: Sitges, Barcelona, Spain

View Event Detail

Start Date: August 17, 2019
End Date: August 25, 2019
Time: 2:00 pm to 2:00 am
Location: Sitges, Barcelona, Spain

View Event Detail

Start Date: September 22, 2018
End Date: September 23, 2018
Time: 9:00 am to 12:00 am
Location: Sitges, Barcelona, Spain

View Event Detail