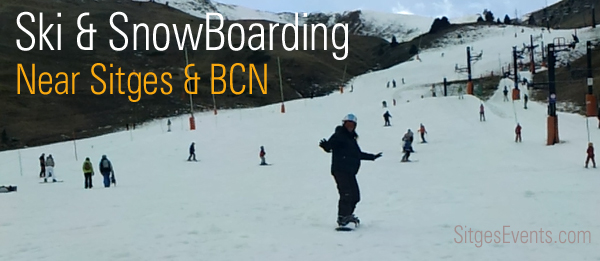 MORE DETAILS
---
SPAIN SKI RESORT: Masella 2 hours 10 mins (Debutantes 27,50€ LIFT: )
http://www.masella.com/forfet.php Masella Station
| | | |
| --- | --- | --- |
| Sort of ticket | High season | Low season |
| Adult [aged from 14] | 39,50 € | 37,50 € |
---
SPAIN SKI RESORT: Port Del Comte 2 hours 11 mins (Debutantes 24€ – LIFT: J Bars)
http://www.portdelcomte.net/index-c.php (translation) 973 492 301
| | | |
| --- | --- | --- |
| | | HIGH SEASON € 24.00 LOW SEASON 18.50€ |
MAPA DE PISTAS
http://www.portdelcomte.net/ckfinder/userfiles/images/mapa-pistes-port-del-comte.pdf
Temp deal 18.50€
---
(Debutantes 27.50€ LIFT: )
http://hivern.lamolina.cat/en/contingut/day-tickets_46/
La Molina – Ski resort facts
La Molina is located in the Pyrenees in the province Girona. La Molina is at an altitude of 1700 m with lifts going up to 2445 m. There are 16 lifts (1 Gondola, 8 Chairlifts, 5 Surface lifts and 2 Magic Carpets) and 46 pistes (12 green, 13 blue, 15 red, 6 black) with a combined skiing area of 53 km. La Molina also offers 3 Ski Routes, 1 Snowpark and activities such as Snowshoes, Dog-sledges, Ski-Doos and a Sledge Area. La Molina is part of the Alp 2500 Ski Domain together with Masella. The Alp 2500 combined skiing area is 121 km and 31 lifts with a lift capacity of 36260 skiers/hour. The ski season lasts from December to April
Estación de Montaña La Molina
Ave. Supermolina, s/n 17573 La Molina (Gerona)
http://www.lamolina.com Photo gallery
---
(Debutantes 18€ LIFT: J BAR)
http://www.vallter2000.com/pdf/tarifes_vallter2000.pdf
---
SPAIN SKI RESORT: : Tavascan Station/Ski Espot/Port Aine 3 hours 27 mins (Debutantes 1day=10,00€/2day=18,00€ LIFT: )
Tavascan Station Phone: 665 67 01 93
| | | | | |
| --- | --- | --- | --- | --- |
| | Holidays | Holidays | | Weekdays |
| | | | |
| --- | --- | --- | --- |
| Debutantes | € 10.00 | € 18.00 | € 10 |
Ski Espot Station Phone: 973 62 40 58
Port Aine Phone: 973 62 76 07
| | | |
| --- | --- | --- |
| Adult 1 Days | € 35.0 | € 33.0 |
---
SPAIN SKI RESORT: Cerler 4 hours 2 mins

(Debutantes free & 23€ LIFT: )
Free skiing: Cerler (Ampriu area.): 4 HOURS FROM SITGES
Every Friday of the ski season the resort of Cerler, Aramón Group, will give beginners' lift pass for Ampriu area. (translation)
This will give you free access to facilities for Beginners
WEBCAMS: http://www.cerler.com/web/webcams.aspx?cat=344 Pista Ampriu
Spanish Snow Reports and Snow Forecast
http://www.cerler.com/web/Cerler_web.aspx?cod=393&cat=992&foto=94 (translation)
Cerler (DÉBUTANTS ) beginners' lift pass for Ampriu area (map) (directions 4 hours 2 mins AP-2) (MAP la molina 2 hours 16 mins ) Parte de nieve: 974 551 111 Información: 974 551 012 Central de reservas: 976 976 071
PRICES: http://www.cerler.com/web/Cerler_web.aspx?cod=578&foto=94&cat=94
Robellóns, Puentet Fontanals
If you are a beginner (Si eres debutante), make sure you Cerler snow.
The two main areas of newcomers are from 1,800 meters. 2,000 m altitude
In the area of 2,000 m altitude are the tracks Robellóns, Puentet Fontanals and that will take you a beautiful black pine forest where the tracks run.
Ampriu
with easy access by car to debut in the two tapes and specific lifts. Moreover, the slopes will have all the services you need to get started in skiing or snowboarding, rentals, ski school, cafeteria, restaurant, barbecue, kids ski …
You have no excuse for not learning to ski!
Every Friday of the ski season the resort of Cerler, Aramón Group, will give beginners' lift pass for Ampriu area.
This will give you free access to the tapes Child and peat bogs, and tows Beginner I and Beginner II.
---
Baqueira-Beret Hotels in Baqueira-Beret
---
Estación de Espot Esquí Hotels in Espot Esquí (Espot)
---
Taüll Hotels in Boí Taüll
---
Queralbs Hotels in Vall de Núria (Queralbs)
---
View Skiing near Barcelona in a larger map