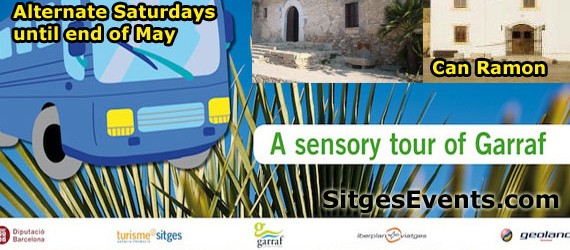 On alternate Saturdays until May, in three languages: Catalan, Spanish and English.
Experience the beauty of our protected natural park with it's forests and rural enviroment from the comfort of a small coach (bus). To promote awareness of agricultural activities and products within the area.
El Garraf de los Sentidos (a sensory tour of garraf)
The Experiences the Flora, fauna and history of Garraf
Tour Start: La plaça Eduard Maristany (The Plaza Eduard Maristany)
l'Oficina d'Informació Turística de Sitges (Sitges Tourist Office)
(map here and below)
Starts: 11.30am
Duration: 3 Hours
How Often: every two weeks/alternate Saturdays, until the end of May
Dates: 17th March, 31st March, 14th April, 28th April, 12th May, 26th May.
Includes a visit to farmhouses:
'Can Pere de la Plana' – recenlty restored (as a nature center). Experience the making of Ricotta Cheese (map here and below)
'Can Ramon' – 100 year old from the fifteenth century at the foot of Muntanya del Montgrós (Mount Montgrós). Which currently produces different wines and champagnes. Experience wine making. (map here and below)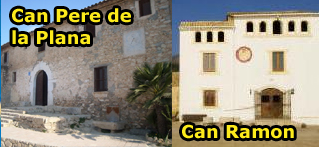 Reservations :
Sitges Tourist Information Office
Tel. 93 811 16 84/607 82 56 75
comunicacio@sitges.cat
· Sínia Morera, 1·
info@sitgestur.cat
www.sitgestur.cat
Adult & Children over 12 : 25€
Children ages 7 to 12 & Seniors : 19€
Children under 6 years : Free
Sponsors: Sitges Tourism Agency / Economic Development & Employment Council of Barcelona / Garraf Development Agency.

View Larger Map Information subject to change : Please check with organisers (along with location information below)

Can Pere de la Plana

View Larger Map
Can Ramon

View Larger Map