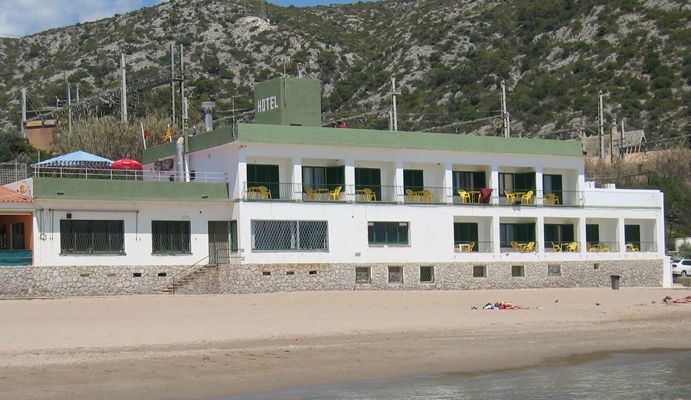 On Garraf Beach, in Garraf near to Sitges & Barcelona, Spain.
Whilst not an actual excursion for a day out, a night at a hotel on the beach can represent a short break. With the beach for the next day.
It is in an old fishermen's town between the sea and the Natural Park of Garraf.
The website says it is an ideal place for having a relaxing time at the beach. Just 20 kilometres either from Barcelona city or Barcelona's airport, and 7 kilometres from Sitges.
The hotel offers hostess service, breakfast, solarium, parking places and wifi free. There are 20 double rooms with bathroom, TV and balcony with an expectacular sea view.
Please confirm information via the 'Official Website': www.hotelgarraf.com
PLEASE MENTION
SITGES
EVENTS
.com
2012

Low

Mid

High

Rooms with bathroom

May and September

June and July

August

1 person

50 €

55 €

65 €

1 person with balcony and sea view

60 €

65 €

75 €

2 people

60 €

65 €

75 €

2 people with balcony and sea view

74 €

80 €

90 €

Breakfast

9 €

I.V.A. 8%

Included
Open from the 19th of the May to the 24th of the September.
For stays of 3 nights or more, see
Please confirm information via the 'Official Website': www.hotelgarraf.com
Playa de Garraf
08871 Garraf – Sitges
(Barcelona) Spain
Tel: +34 936320007
Fax: +34 936320070
info@hotelgarraf.com
PLEASE MENTION
SITGES
EVENTS
.com