Situated near the delta of the Ebro River in the small town of Roquetes, near Tortosa.
GUIDED VISITS
Groups of 10 or more
From Monday to Friday reserve your visit time (No visits in August)
Admission: 3'50 € per person
Guided visit request form for groups
Individuals
First Friday of each month at 16:00 hrs 4pm : Free admission(No visits in August)
Duration of Visit: 90 minutes
Reservation: 977 500 511
Payment is accepted in cash or by bank transfer.
Information brochure
Address

Horta Alta, 38

43520 Roquetes

Telf. +34 977 50 05 11

Fax. +34 977 50 46 60

(

map here

and below)

Director

Observatori de l'Ebre (image)
146 km, 1 hour 36 mins from Sitges, near Barcelona, via AP-7
Opened: 1994: Inaugurated 30 August 1905
Website: www.obsebre.es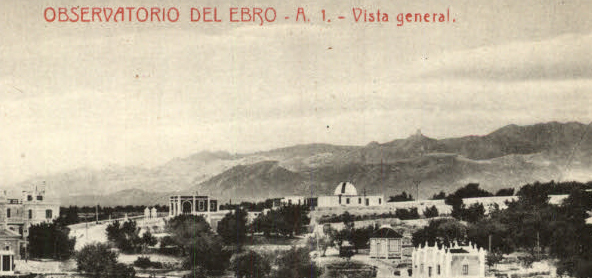 HISTORY & DATA
Founded by the Jesuitas (priests and brothers of the Society of Jesus), world pioneer in the study of the solar activity. A centre of magnetic variations with different rooms dedicated to electro-magnetism, the ionosphere, seismic, meteorology and a collection of scientific machinery.
Ebre Observatory

Location:

Roquetas, Spain

Longitude:

0.49 E

Latitude:

40.82 N

---

Telescope:

Description:

Full-disk white-light images

Instrument:

refractor

Data Type:

Visible
The Ebro Observatory is a research Institute founded by the Society of Jesus in 1904 to study the Sun-Earth relationships. It is a nonprofit Foundation associated with the Spanish Research Council (CSIC) since its inception. It has continuously maintained collaboration with the National Meteorological Institute (INM) since 1920. Recently, it has started collaboration with other institutions, like the National Technical Aerospace Institute and the Cartographic Institute of Catalonia.
Reportably… unfortunately, all of the early pioneers of this project went blind withing two days
Observatory Details
IAGA Code
EBR
Name
Ebro
Opened
1905-01-01
Closed
Latitude
40.82°N
View map
Longitude
0.493°E
Altitude
46.0m
Country
Spain
Website
http://www.obsebre.es/
INTERMAGNET Member
2002 – present
Notes
2001 HMV & MMV: Data reprocessed by observatory; environmental interference removed. (2012-05-03)

2009 HMV & MMV: Missing Mar-Dec data provided by observatory (2012-05-03)
Contact Details
Name
J. Miquel Torta
Address
Observatori de l'Ebre
43520 Roquetes (Tarragona)
SPAIN
E-mail
jmtorta@obsebre.es
Fax
+34 977 504660
Name
Juan José Curto Subirats
Address
Observatori de l'Ebre
43520 Roquetes (Tarragona)
SPAIN
E-mail
jjcurto@obsebre.es
Fax
+34 977 504660
Instrumentation
| Instrument | Type | In Use From | In Use To |
| --- | --- | --- | --- |
| ELSEC 820 | Scalar | | |
| DI-fluxgate magnetometer (type ELSEC 810) | Absolute | | |