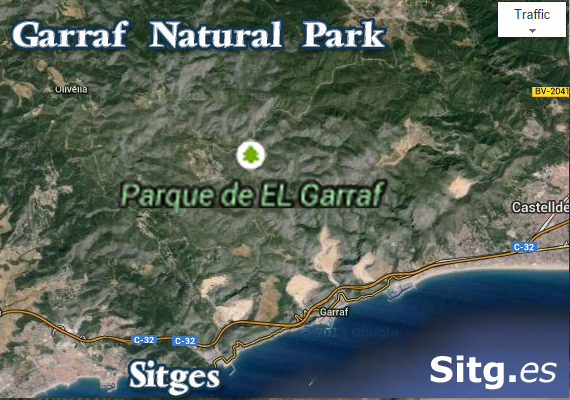 Parque de El Garraf – Park
access is 10 mins from Sitges via the Commercial Park, north of town
Garraf Park in districts of Baix Llobregat, Alt Penedès and Garraf itself
Coastal uplands known as the Serralada
Boundaried by the Lower Llobregat Valley, the Mediterranean Sea and the Penedès Depression
12,820 hectares
Mainly limestone/dolomite rock (Garraf Massif 'Mountains')
With Caves, potholes, sinkholes and fissures
Reddish clays at the eastern end of the park
Dense shrubland (Kermes Oak/Mastic/Mediterranean fan palm/Rope Grass)
Further inland White Pine and Holm Oak (enc lowlands plus Boxwood, Madder, Honeysuckle and Viburnum)
Rock thrush, blue rock thrush, black wheatear, black-eared wheatear, Thekla lark and tawny pipit birdlife
Falcons, African hawk-eagle, other birds of prey
Seabirds, enc Cormorant
More info/bookings (source pdf in Eng)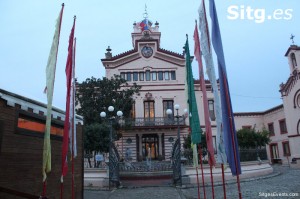 Observatori Astronòmic del Garraf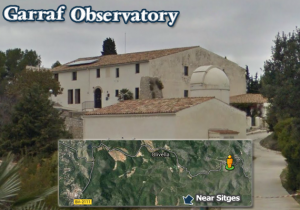 Green Trail : Garraf Non-guided routes
Always tell people times you are going : carry supplies, especially water : avoid the hot summer days : take a charged phone: travel at own risk
Camí de les Costes (marked route) 12-15k

Features:
Ruins of a 12th/13th Century Military Building,'Castellet del Garraf',
Past 'Masia de Campdàsens' (defence tower and 19th century Romanesque chapel)
onto 'Can Lluçà' a farmhouse, areas of Fontanilles Can, Can Robert and a 15th/16th Century farmhouse l'Muntanya Amell  with a defence tower and before the walk down to the next urbanisation,
'La ermita de la Trinitat', a chapel built on a cliff overlooking the coast
more

Camí Medieval i Serra de Can Perers (marked route)

Features:
17.5km in all – starting & ending at La Sentiu bus stop

Masies del Garraf (marked route, suitable for mountain bikes)

It is a circular route that runs through PR37. It is a journey that, by its extension (25km) advise biking. It runs most of the Garraf farms  in the Park: Can Camps, Can Liona, els Masets, la Fassina, one of the few inhabited houses of Parc. Can Plains, an old farmhouse along with a defence tower, Quadrada-, Vallgrassa, Antigue cattle farm today and Experimental Center of the arts, Corral Nou, Les Piques , a former convent in ruins and Can Grau. Route starts and ends in Olivella, in front of Garraf Nature Park Office (mentioned below)
more


Sitges to Vilanova (walking with care)

To Sant Cristòfol lighthouse (la Farola) in Vilanova i la Geltrú

2 hours walk from Sitges to Vilanova past Sitges golf club and then along the coast to the carpark of the L'Atlantida night club. Fromwhere you find the start of the rural path across the topof the cliffs, next to the railway, on the sea side. Make sure you always stay on the sea side of the railway. It takes one, along the seafront past the Vilanova commercial port, over the creek bridge and on to the lighthouse gardens (missing the road on your right)

Garraf via Cement factory to Sitges (largley inland)

Garraf along the GR 92, passing/walking up large hills, passing the 'ruin of Garraf', outline of buildings and on to Sitges. There are few paths close to the sea/coast cliff edge and therefore no route.
http://es.wikiloc.com/wikiloc/view.do?id=4336810
Garraf Nature Park Office
(10:00h to 15:00h daily)
Turn left at the roundabout, just as the mountain road from Sitges ends, just before slip road leading to motorway/Barcelona.
Ctra. de Rat Penat a Plana Novella, km 3,5 ,  08870 Sitges
Tel: +34 93 597 18 19 Email: p.garraf@diba.cat
Antique conditioned farmhouse

Overview of the services and facilities

Publications available on the park

Videos weekends = 10:30, 11:30, 12:30, 13:30 and 14:00 hrs
L

oan adapted material wheel chair/blind

by request

Permanent exhibition

View Larger Map
It audiovisual projects 'El Garraf Natural Park' (El Garraf. Parque Natural) , a tour of the Garraf Park with the wind as thread, which allows us to see the uniqueness of this protected area.
Also houses the permanent exhibition 'Program seguiment i conservació of Bonelli àliga perdiguera or' real-time images of the life of this bird obtained by camcorders. Audiovisual projections: weekdays and weekends at 10:30, 11:30, 12:30, 13:30 and 14 h.
GARRAF TOURIST ROUTE SITE (photos & descriptions: no maps)
Walking and cycling Excursions : Excursions a peu i en bicicleta
Visitor – Garraf Park Routes
Green Trail : Garraf Guided routes
To the Fons de la Vallgrassa
To La Morella
Guided tours from Cal Ganxo – Castelldefels
(Camí de Cal Ganxo, s/n: is uphill to the castle
from Castelldefels town centre station  – Tel: +34 93 514 61 51)
El Turó del Fanxó (hydrogeology, the coast and the
Nature Park). Distance 1800 m; maximum altitude 280 m.
High level of difficulty throughout the circuit.
La Guixera (the settlers of the Garraf) Distance 1900 m;
maximum altitude 120 m. Low level of difficulty as far as
La Guixera and on the return, and a high level around the
remaining circuit.
El Turó d'en Vinader (fauna, vegetation and geology)
distance 2800 m, maximum altitude 195 m. Low level of
difficulty as far as the Turó d'en Vinader and a high level
around the Turó del Gall.
More info: parcs.diba.cat/es/web/garraf/inici (Translation)