Sitges International Tango Festival 2015
By
Visited 8622 times , 2 Visits today
Start Date: July 16, 2015
End Date: July 19, 2015
Time: 11:00 pm to 12:00 am
Email:
info@festivaltangositges.com
Description
International Tango Festival of Sitges
SitgesEvents.com/event/sitges-international-tango-festival-2016/
Often in 3rd week of July
Tango DJ's Meeting
Tango meeting
Clos la plana
PREVIOUS INFO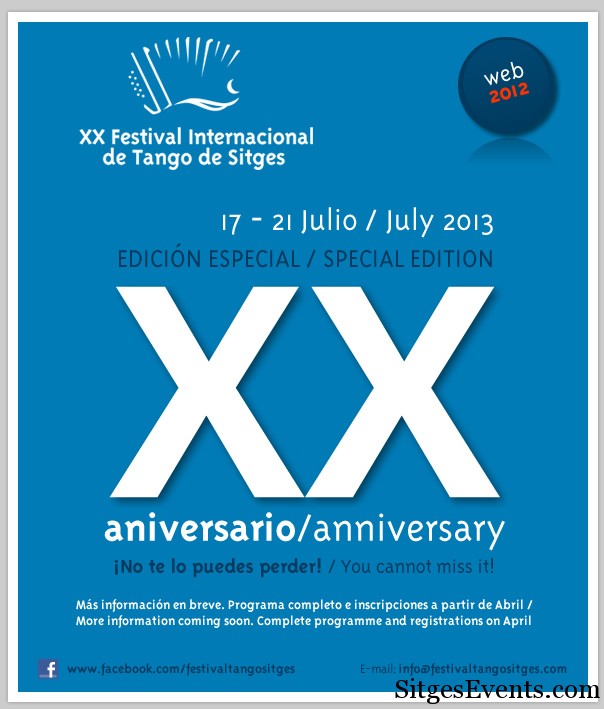 2012 Information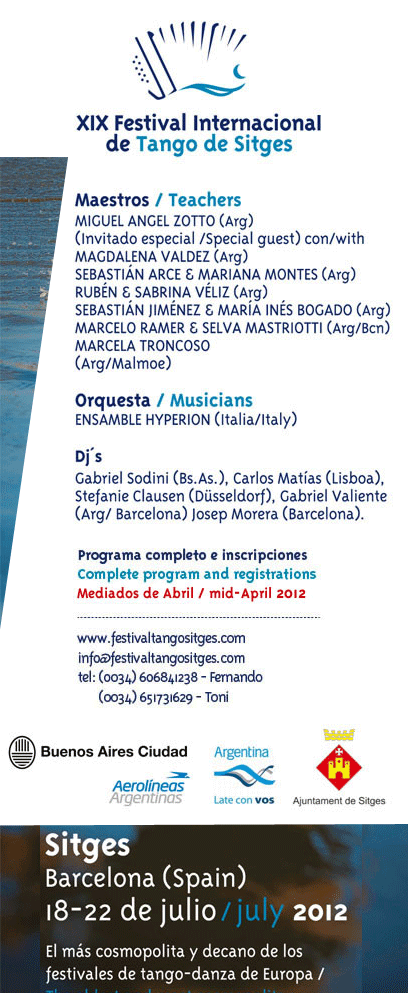 The information below is from the 2011 events, but will be undated nearer the 2012 Sitges event.
13 July to -17 July
Dances
Casino Prado Gardens
C/ Francesc Gum
Info: www.festivaltangositges.com – Barcelona Tango Club T. 93 226 65 97
MILONGAS (Nights of Dancing)
Every night from 23:00 hrs in the Garden of Jardín del Prado.
Wednesday 13th
Welcome Milonga and show with all the teachers of the festival.
Thursday 14th
The celebration of Toni Barber's (festival co-director) 20 Year Anniversary with Tango.
Participants: Luna Palacios and special guest musicians.
Friday 15th:
Milonga with live music: Sexteto Unitango (from Buenos Aires)
Exhibitions:
Marcela Troncoso & Fernando López del Amo
Rodrigo "Joe" Corbata & Lucila Cionci
Pablo García & Alejandra Mantiñán
Saturday 16th:
Milonga with live music: Sexteto Unitango (Bs. As.)
Exhibitions:
Darío da Silva & Claire Vivó
Claudio Villagra & Romina Levín
Sebastián Arce & Mariana Montes
Sunday 17th:
Closing Milonga (with surprise exhibition!)
PRICES

Until
31/05/11
After
01/06/11
FULL PASS 10
10 clases + 5 milongas
230€
250€
FULL PASS 8
8 clases + 5 milongas
215€
240€
FULL PASS 6
6 clases + 5 milongas
200€
220€
FULL PASS 8
8 clases + 4 milongas
200€
220€
FULL PASS 6
6 clases + 4 milongas
185€
205€
FULL PASS 4
4 clases + 4 milongas
165€
180€
FULL PASS 6
6 clases + 3 milongas
170€
180€
FULL PASS 4
4 clases + 3 milongas
155€
170€
BEGINNER´S PASS + MILONGAS
4 clases de inic. + 5 milongas
150€
165€
BEGINNER´S PASS
4 clases de iniciación
60€
65€
PROFESSIONAL´S PASS
4 clases + 5 milongas
170€
185€
MILONGAS PASS
5 milongas
95€
105€
EXTRA CLASSES
For pass holders
20€
22€
for non pass holders
25€
28€
SPECIAL COURSE: DJ's course
(pack 2 classes)
50€
55€
MILONGAS (entradas sueltas)
Wednesday 13
15€
17€
Thursday 14
20€
22€
Friday 15
25€
28€
Saturday 16
25€
28€
Sunday 17
20€
22€
About the Organizers :
BARCELONA TANGO CLUB Tel
Related Events
Start Date: October 5, 2019
End Date: October 5, 2019
Time: 8:00 pm to 10:00 pm
Location: Carrer Davallada, 12, 08870 Sitges

View Event Detail

Start Date: September 16, 2019
End Date: September 25, 2019
Time: 9:00 am to 12:00 am
Location: Sitges, Barcelona, Spain

View Event Detail

Start Date: September 1, 2019
End Date: September 11, 2019
Time: -
Location: Sitges, Spain 08870

View Event Detail