Les Cases Noves Fire Run Festival
By
Visited 5017 times , 3 Visits today
Start Date: July 1, 2011
End Date: July 1, 2011
Time: 10:30 pm to 1:30 am
Email:
info@sitgestur.cat
Description
A 'Correfoc Festival' (see description below) in the neighborhood of Les Cases Noves on Friday night.
Over 10 groups of fire walkers/batucada groups (Brazilian style bands)with a great deal of  fireworks and noise.
Route: Pont dels Ocells, Sant Honorat, Illes Balears, Aragó, Pl. dels Castellers.
Parade starts at 22:30h
Immediately afterwards there is a Mobile Disco with J. Music & Sound
at Pl. dels Castellers (we estimate 01.30 as a finish)
Correfocs
(Catalan pronunciation: [ˌkorəˈfɔks], Western Catalan: [ˌkoreˈfɔks])
Translates in English to "fire-runs") are an exiting and visual event in Catalan festivals.
Participants dress up as devils and light fireworks. Often held up above their heads. And dance to the drums of a traditional gralla.
Whilst the fireworks are set off among the crowd of spectators, spectators can stand well out of the line of fire!, or get involved. Being bathed in the sparks.
Normally a good wide hat and clothing is sufficient to let the embers fall off of you safely, with a good fitting around the neck or a scarf.
The brave in the  crowd line a street, close to the action and the wild run through a tunnel of fireworks. s they are set off, overhead.
There is often a more sedate kids version, but as is typical in Sitges and Catalunya, older ones often get involved and know how far to take it. We have never seen an injury.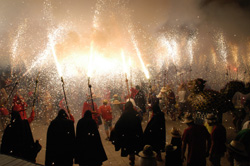 About the Organizers :
Ag

Free
Related Events
Start Date: October 5, 2019
End Date: October 5, 2019
Time: 8:00 pm to 10:00 pm
Location: Carrer Davallada, 12, 08870 Sitges

View Event Detail

Start Date: September 16, 2019
End Date: September 25, 2019
Time: 9:00 am to 12:00 am
Location: Sitges, Barcelona, Spain

View Event Detail

Start Date: August 14, 2018
End Date: August 14, 2018
Time: 11:30 pm to 11:30 pm
Location: Port de Sitges 08870 Sitges, Barcelona, Spain AUDITORIO DEL CENTRE,

View Event Detail