Sitges Rambling & Mountaineering Presentions May 3rd
By
Visited 2708 times , 1 Visits today
Start Date: May 3, 2012
End Date: May 3, 2012
Time: 8:00 pm to 10:00 pm
Email:
excsitges@gmail.com
Location: Teatre Prado, Carrer de Joan Maragall, 08870 Sitges, Spain
Claim Ownership
Description
El Centre Excursionista de Sitges
(Sitges Rambling & Mountaineering Centre)
Three events in May
Show the recent activities undertaken by members of the organization and in special memory of Louis Mirabent (past president).
Casino Prado Suburense
Carrer de Francesc Gumà, 6, 08870 Sitges, Spain
Admission is free
Thursday, May 3rd at 8pm (20hrs)
"Louis Mirabent, 30 years together in the mountains,"
(about Louis Mirabent)
In memory of Louis Mirabent, who was president of the Mountaineering Centre and disappeared in 2010 due to a mountaineering accident.The session will include photos, videos and memories of a personality that inspired and helped many people discover mountaineering & trekking in Sitges, Barcelona, Catalunya and worldwide.
Thursday, May 10th at 8pm (20hrs)
"Muztagh-Ata, the father of the Mountains of Ice"
(Himalayas climbing)A film the 2011 expedition by members of the Centre, Robert Watchtower Masana,
Rachel and Andrew Ferrer Mirabent, to one of the highest peaks in the Himalayas that can be climbed with skis.
Thursday, May 17th at 8pm (20hrs)
"Huayhuash. Expedition QQDS Andes of Peru,"
(about the Andes)
In which a large group, including several members of the Centre, trek through one of the most spectacular and least known parts of the Andes.Includes a presentation by James and Joan Enric Torra Asensio.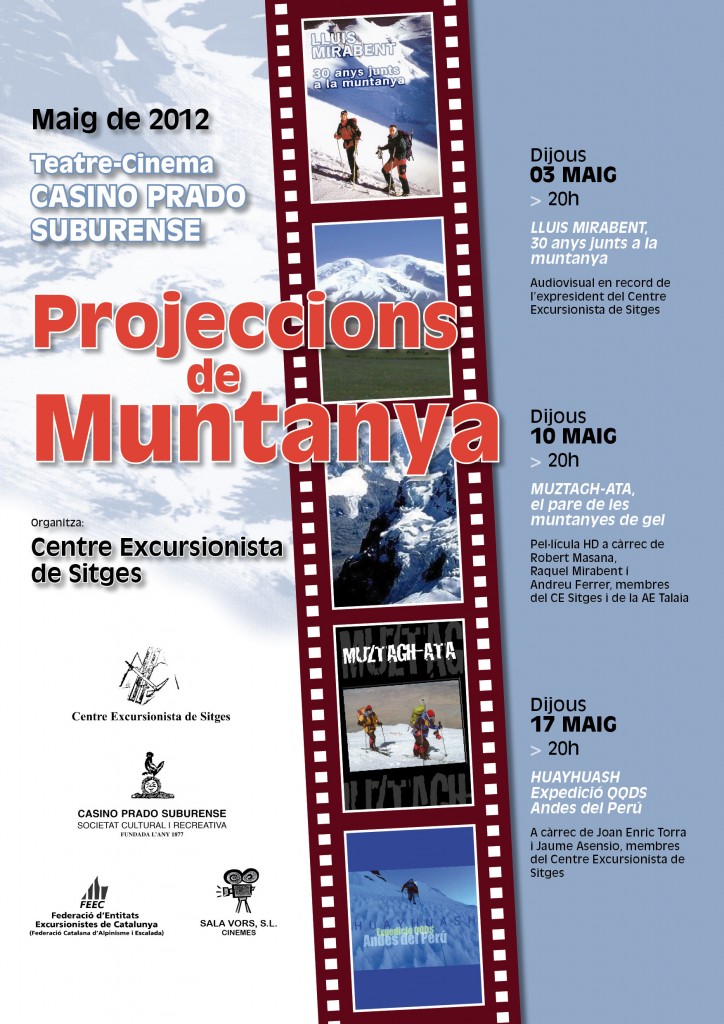 About the Organizers :
Mountaineering Centre in Sitges
Poliesportiu Pins Vens. C/ Cardenal Vidal i Barraquer, s/n. 08870, Sitges
Meetings: Every Thursday from 20 to 21 h. (Closed in August and holidays).
Link to location
Centre Excursionista de Sitges Adre
Related Events
Start Date: September 1, 2019
End Date: September 11, 2019
Time: -
Location: Sitges, Spain 08870

View Event Detail

Start Date: April 1, 2019
End Date: April 30, 2019
Time: -
Location: Sitges, 08870

View Event Detail

Start Date: September 1, 2018
End Date: September 11, 2018
Time: -
Location: Sitges, Spain 08870

View Event Detail