Sitges International Tango Festival 2013
By
Visited 2786 times , 3 Visits today
Start Date: July 17, 2012
End Date: July 21, 2012
Time: 11:00 pm to 12:00 am
Email:
info@festivaltangositges.com
Description
Awaiting info from www.festivaltangositges.com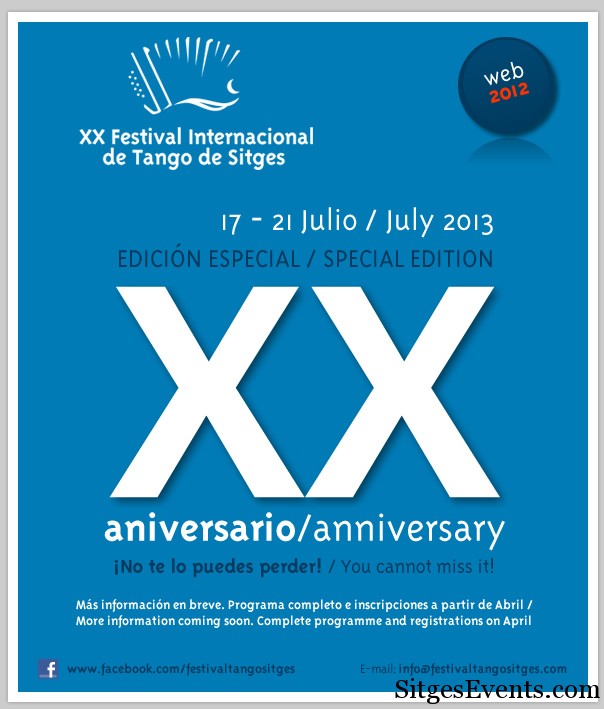 2012 Information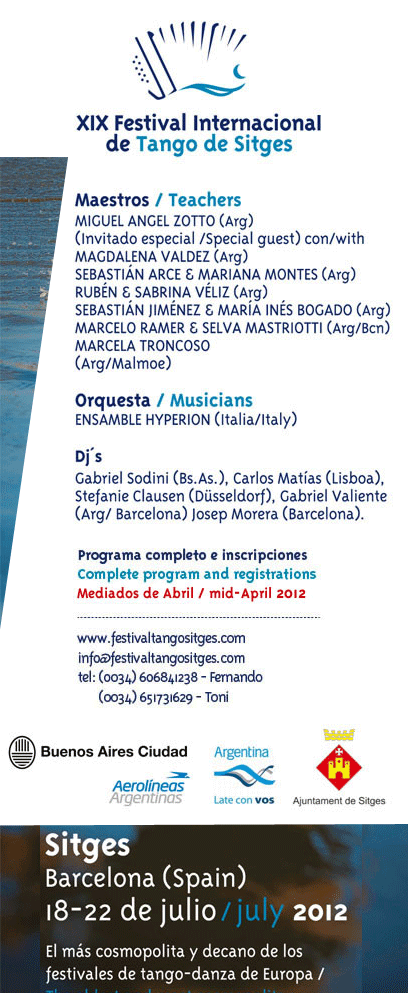 The information below is from the 2011 events, but will be undated nearer the 2012 Sitges event.
13 July to -17 July
Dances
Casino Prado Gardens
C/ Francesc Gumà, 6-14
23:00h
Info: www.festivaltangositges.com – Barcelona Tango Club T. 93 226 65 97
MILONGAS (Nights of Dancing)
Every night from 23:00 hrs in the Garden of Jardín del Prado.
Wednesday 13th
Welcome Milonga and show with all the teachers of the festival.
Thursday 14th
The celebration of Toni Barber's (festival co-director) 20 Year Anniversary with Tango.
Participants: Luna Palacios and special guest musicians.
Friday 15th:
Milonga with live music: Sexteto Unitango (from Buenos Aires)
Exhibitions:
Marcela Troncoso & Fernando López del Amo
Rodrigo "Joe" Corbata & Lucila Cionci
Pablo García & Alejandra Mantiñán
Saturday 16th:
Milonga with live music: Sexteto Unitango (Bs. As.)
Exhibitions:
Darío da Silva & Claire Vivó
Claudio Villagra & Romina Levín
Sebastián Arce & Mariana Montes
Sunday 17th:
Closing Milonga (with surprise exhibition!)
PRICES

Until
31/05/11
After
01/06/11
FULL PASS 10
10 clases + 5 milongas
230€
250€
FULL PASS 8
8 clases + 5 milongas
215€
240€
FULL PASS 6
6 clases + 5 milongas
200€
220€
FULL PASS 8
8 clases + 4 milongas
200€
220€
FULL PASS 6
6 clases + 4 milongas
185€
205€
FULL PASS 4
4 clases + 4 milongas
165€
180€
FULL PASS 6
6 clases + 3 milongas
170€
180€
FULL PASS 4
4 clases + 3 milongas
155€
170€
BEGINNER´S PASS + MILONGAS
4 clases de inic. + 5 milongas
150€
165€
BEGINNER´S PASS
4 clases de iniciación
60€
65€
PROFESSIONAL´S PASS
4 clases + 5 milongas
170€
185€
MILONGAS PASS
5 milongas
95€
105€
EXTRA CLASSES
For pass holders
20€
22€
for non pass holders
25€
28€
SPECIAL COURSE: DJ's course
(pack 2 classes)
50€
55€
MILONGAS (entradas sueltas)
Wednesday 13
15€
17€
Thursday 14
20€
22€
Friday 15
25€
28€
Saturday 16
25€
28€
Sunday 17
20€
22€
About the Organizers :
BARCELONA TANGO CLUB Tel
Related Events
Start Date: October 5, 2019
End Date: October 5, 2019
Time: 8:00 pm to 10:00 pm
Location: Carrer Davallada, 12, 08870 Sitges

View Event Detail

Start Date: September 16, 2019
End Date: September 25, 2019
Time: 9:00 am to 12:00 am
Location: Sitges, Barcelona, Spain

View Event Detail

Start Date: September 1, 2019
End Date: September 11, 2019
Time: -
Location: Sitges, Spain 08870

View Event Detail