Irish Catalan Cultural Long Weekend 2016
By
Visited 3849 times , 2 Visits today
Start Date: October 27, 2016
End Date: October 30, 2016
Time: 10:00 am to 11:59 am
Email:
info@creative-connexions.eu
Description
Images of previous events above
Creative Connexions Festival 2016
Castellers
Gigs & Festival Gig Rig
Sitges sessions
Parade
Exposicions
Pop-Up-Sessions
Youth Bands and Choirs
Dance Shows
Late Night Culture Box @ Cava Jazz
Choral Performances
Music & Dance Workshops & Masterclasses
Escape from dark October skies and wintery temperatures, soak up the sun and celebrate Creative Connexions in Sitges, Barcelona! Once again Ireland and Catalonia join forces to bring the fourth Creative Connexions festival to fruition during the Bank Holiday Weekend, 27-30 October 2016. A stunning location, Sitges is the perfect host for this celebration of
Celtic and Catalan identity through traditional music, literature, poetry and art, and can be easily accessed from Barcelona El Prat and Reus airports.
With events hosted in venues from the architectural wonders of the Palau Maricel and Museu Romàntic, to the atmospheric El Retiro Cava, Casablanca and others, this festival gives visitors the chance to explore Sitges and experience the best music, art, poetry and song being created in Ireland and Catalonia today. With reduced festival rates from festival accommodation partners, fantastic value ticket prices, workshops and many free events, it is the perfect opportunity to explore cultural connections.
Overview of Calendar of Events
Download the full programme here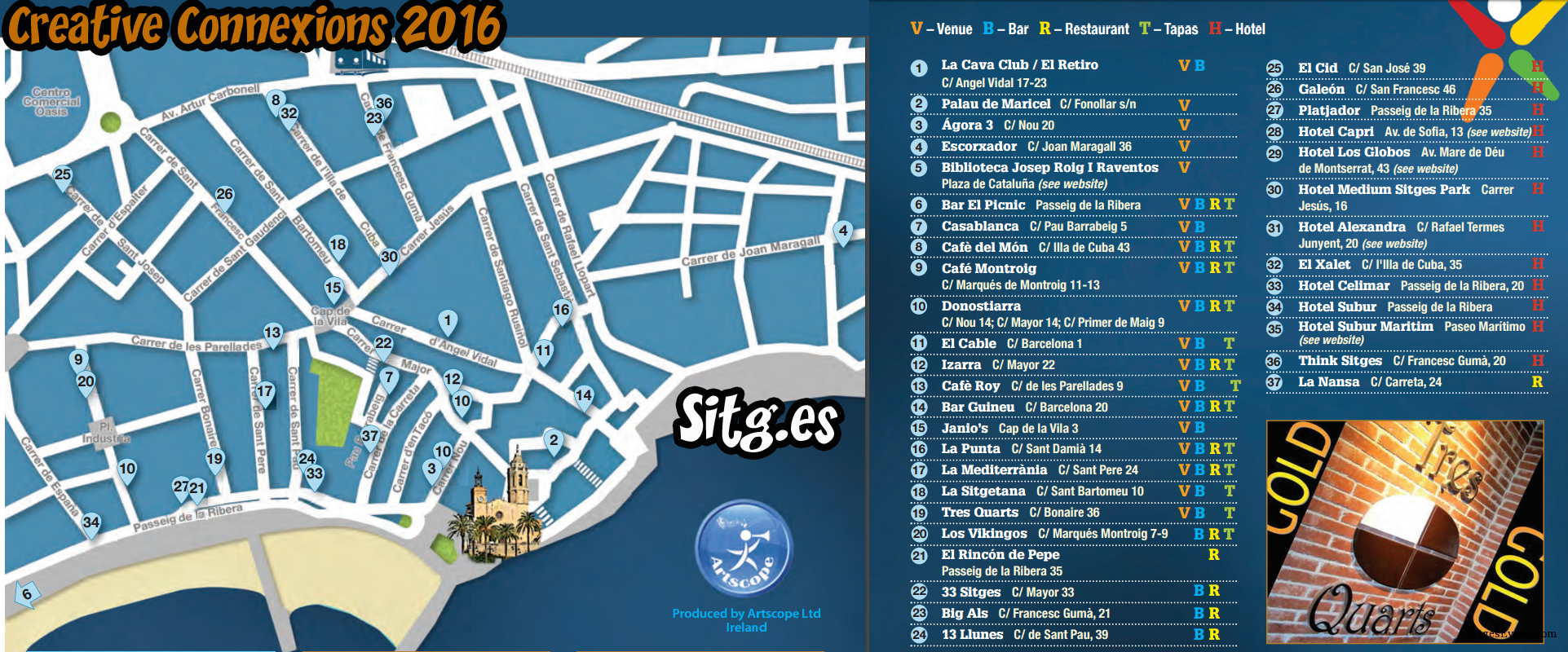 click here or image for close up
Sitges Festival Ticket Outlets:
L'Avinyet, C/Jesús 12, Sitges
Bonita Bonita, Carrer Major 17, 08870, Sitges
This event is produced by Artscope, Ireland
About the Organizers :
How to Register
Click on the below link to register by going to our website. Just enter your detail and pay the registration fees.
Related Events
Start Date: September 1, 2019
End Date: September 11, 2019
Time: -
Location: Sitges, Spain 08870

View Event Detail

Start Date: April 1, 2019
End Date: April 30, 2019
Time: -
Location: Sitges, 08870

View Event Detail

Start Date: September 1, 2018
End Date: September 11, 2018
Time: -
Location: Sitges, Spain 08870

View Event Detail