DDA Fund Raising Auction Sitges
By
Visited 2468 times , 2 Visits today
Start Date: November 7, 2015
End Date: November 7, 2015
Time: 8:30 pm to 11:00 pm
Email:
donations@defensadelsanimals.org
Description
Defensa dels Animals Raising Funds
at Bar Casablanca Sitges
We will be auctioning:
VOUCHERS – loads of local restaurants
SERVICES – taxi to the airport, cut and blow dry, and more…
GIFTS – custom made Christmas crackers, pet products, etc.
TAPAS – will be sold for the charity
( so arrive hungry, please 🙂 )
Defensa dels Animals fund raising auction
Saturday 7 Nov at  Bar Casablanca 20.30
Carrer Barrabeig 8, Sitges
DDA is a registered charity dedicated to stabilise and reduce the number of cat colonies in Sitges as well as sterilise dogs rehomed from local refuges
Bid on 'Vouchers'
Menu of the day for 2
Hits Restaurant c/st. Pere sitges
Elysium Restaurant, passeig de la ribera sitges
Cinnamon Restaurant, vallpenida sitges
Incognita Cafe bar – calle europa. Sitges
Vila Marina, aiguadolc, sitges
Chai Restaurant c/sant pau, sitges
Komokieras Restaurant, c/espalter, sitges
La picara, c/san pedro, sitges
Further restaurants are being added soon
'Services' being auctioned
To be announced (Haircuts… Taxi)
'Gifts' being auctioned
To be announced (Pet products… )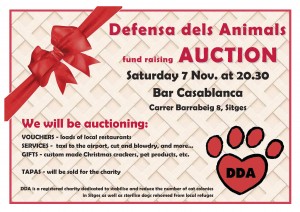 About Defensa dels Animals
We are a non-profit animal rights group registered in Cataluña. Our mission is to stabilize and reduce the feral cat population in Sitges through an ethical approach to reproductive capacity, whereby we run a sterilisation project. Sitges has at least 35 large (and many smaller) cat colonies. We want to reduce instances of inhumane killings of cats as well as reduce the number of cats abandoned on the street. We also wish to educate the public about real solutions for the health and control of feral cat colonies.
Somos una asociación de defensa de los animales registrada en Cataluña sin ánimo de lucro. Nuestra misión es estabilizar y reducir la población de gatos con capacidad reproductiva en la población de Sitges a través de un método ético tal como esterilización de los animales. Sitges tiene como mínimo 35 grandes colonias y muchas más pequeñas a lo largo de su territorio. Queremos reducir el número de inhumanas matanzas de gatos, reducir también el número de gatos abandonados cruelmente en nuestras calles y educar a la población sobre las soluciones reales en la salud y el control de las colonias de gatos callejeros.
About the Organizers :
Just turn up
Related Events
Start Date: August 14, 2018
End Date: August 14, 2018
Time: 11:30 pm to 11:30 pm
Location: Port de Sitges 08870 Sitges, Barcelona, Spain AUDITORIO DEL CENTRE,

View Event Detail

Start Date: August 12, 2018
End Date: August 12, 2018
Time: 11:30 pm to 11:30 pm
Location: Port de Sitges 08870 Sitges, Barcelona, Spain AUDITORIO DEL CENTRE,

View Event Detail

Start Date: August 11, 2018
End Date: August 11, 2018
Time: 11:30 pm to 11:30 pm
Location: Port de Sitges 08870 Sitges, Barcelona, Spain AUDITORIO DEL CENTRE,

View Event Detail